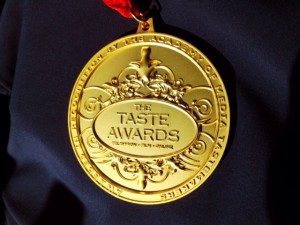 The 7th Annual TASTE AWARD is proud to announce Special Achievement Award Winners (Honorees) and Award Nominee (Finalists).
Viewers Choice Category Voting continues through December 25th below
Award Winners of selected categories will be announced in December 2015, and along with the remaining award winners including Viewers Choice  categories will receive their honors on February 11th, 2016 at a Red Carpet Awards celebration in San Francisco.
The Red Carpet awards event features a star-studded lineup of food and fashion TV celebrities, including winners, nominees and presenters.
PLACE YOUR VIEWERS' CHOICE VOTES BELOW.
VOTE THROUGH DEC. 25TH. WINNERS TO BE ANNOUNCED ON FEBRUARY 11, 2016 AT THE TASTE AWARDS EVENT
BEST FOOD PROGRAM: WEB
Crafted
Dulce Delight
How To Cook That
Le Gourmet TV
One World Kitchen
The Artisans of Italy
The Culinary Institute of America and Taste NY video series
The Grill Iron
BEST FOOD TRAVEL SERIES: WEB
Local Flight
Original Fare
The Artisans of Italy
The Healthy Voyager Travel Show
UNCORKED
BEST HOME CHEF IN A SERIES
Annabel Langbein The Free Range Cook; Simple Pleasures
Dish It Out!
Dulce Delight
Elise Strachan of MyCupcakeAddiction
How To Cook That
Jazzy Vegetarian
Kitchen Vignettes
One Pot Chef
Real Girl's Kitchen
The Domestic Geek
The Trailer Park Cooking Show With Jolene Sugarbaker
"OFFICIAL SELECTION": BEST FEATURE-LENGTH FILM OR DOCUMENTARY
CAFFEINATED
Nothing With Something: Death of a Diner
Paradise Waits
"OFFICIAL SELECTION": BEST SHORT FILM OR DOCUMENTARY
Crafted
Inside Amato By Furne One
Krusing America
Life & Hummus
Malibu Living
unReal
"OFFICIAL SELECTION": BEST MINI FILM OR DOCUMENTARY
Blue Bird
Experience the Palette, Before the Taste.
Flazéda by Pearl
Wildflowers: The Margaret McDermott Gift
BEST FOOD OR DRINK RADIO BROADCAST
America's Test Kitchen Radio
Bite and Booze Radio Show hosted by Jay Ducote
California Wine Country with Steve Jaxon
Food & Wine with Chef Jamie Gwen
Living Homegrown Podcast
Pass the Salt
Slow Living Radio
What's Cookin' on Wine
Wine Talk with Marcia
BEST FASHION OR DESIGN: WEB PROGRAM OR VIDEO
Engineer Your Space
Fashion News Live
The Kaya Jones Reality Show
BEST COMEDY
Bravo's Girlfriend's Guide to Divorce
Bravo's Odd Mom Out
Dish It Out!
The 3 Julias
The Trailer Park Cooking Show With Jolene Sugarbaker
BEST INSTRUCTIONAL WEB SERIES
Cuisiniére by Moonberry
Dish It Out!
Dulce Delight
Elise Strachan of MyCupcakeAddiction
How To Cook That
Mind Over Munch
One Pot Chef
Put Your Best Fish Forward
The Culinary Institute of America and Taste NY video series
The Trailer Park Cooking Show With Jolene Sugarbaker