Photography Category Award Winners Announced for the TASTE AWARDS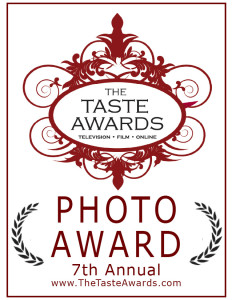 The TASTE AWARDS Committee and the Academy of Media Tastemakers are pleased to announce the winners for the Photography Category for the TASTE AWARDS.
The Photography Awards Category is a juried art and photography competition celebrating photography about either Food, Fashion or Travel.
The theme of this year's photography awards is "Delicious." The dictionary definition of Delicious is "highly pleasing or agreeable to the senses."
AWARD COMPETITION WINNERS:
• Berry Fruit Rollup Arch by Susan Irby
• Margarita Shrimp by Anna Williams
• Seep (Folded Chair) by Ajitesh Sharma
• Snax (Honey Shower) by Justin Schwan and Natasha Pearl Hansen
• Still Life by Tori Dickson
• Diced by Tori Dickson
In addition to the selected Entrants, three Honoree Awards will also be announced shortly.
SPECIAL ACHIEVEMENT HONOREES
• TBA
• TBA
• TBA
Award winners receive:
– Top Photographers receive a TASTE AWARD Medallion to honor their achievement
– An Exhibition at the Red Carpet Reception of the TASTE AWARDS
– 2 Tickets to attend the TASTE AWARDS in San Francisco on February 11th (non-transferable)
– Publication on the TASTE AWARDS site, and selected media partner publications
– Authorized use on websites and collateral of the custom "Images of TASTE AWARDS Winners" Logo