The 8th Annual TASTE AWARDS are proud to announce the Special Achievement Award Winners (Honorees), General Category Award Winners, and Viewers Choice Nominees.
Award Winners of selected general categories were announced in December 2016, and along with the remaining award winners including Viewers Choice  categories will receive their honors in February 2017 at a Red Carpet Awards celebration in Los Angeles.

Winners of the Photography Category Awards, Craft Award Winners and Best of Region Winners (Canada, Europe, Australia/NZ, etc.) will be pre-announced in early January 2017.
The Red Carpet awards event featured a star-studded lineup of food and fashion TV celebrities, including winners, nominees and presenters. Date and Location to be announced on January 3rd.
Tickets for the awards dinner and celebration will go on sale on January 3rd, 2017. More information here.
SEE THE SPECIAL ACHIEVEMENT AWARD WINNERS (HONOREES), as well as all GENERAL AWARD CATEGORY WINNERS AND VIEWERS CHOICE AWARD NOMINEES  (FINALISTS).
SPECIAL ACHIEVEMENT AND HONOREE AWARD WINNERS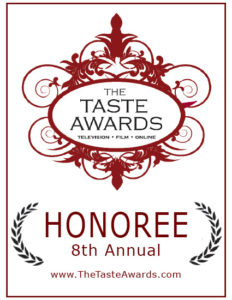 LIFETIME ACHIEVEMENT AWARD

PIONEER AWARD

Jamie Oliver, Carla Hall
Adam Richman, Food Network Canada
BREAKOUT FOODIES OF THE YEAR
BREAKOUT FASHIONISTAS OF THE YEAR
Grand Opening (Tastemade), Going off the Menu (Bravo), Huang's World (Vice)
State of Undress (Vice), Window Warriors (GSN), Meredith Foster (YouTube), Claudia Sulewski (YouTube)
BREAKOUT STORYTELLERS OF THE YEAR
OUTSTANDING VISION
All the Pizza (Tastemade), Tiny House Nation (FYI Network), Versace and Bruce Weber "Chicago", Playing with Food (KCBX)
Trisha's Southern Kitchen (Food Network),

Great British Bake Off  (BBC)

OUTSTANDING PASSION
OUTSTANDING INSPIRATION
Ayesha Curry, Hannah Hart
Chefs Table (Netflix), Open Your Eyes (HBO)

STYLEMAKER AWARD

OUTSTANDING CULINARY TRAVEL EXPERIENCE

RuPaul's Drag Race (Logo), Rachel Hunter's Tour of Beauty (Ovation)
CuisinArt Resort and Spa (Anguilla)
 SPOTLIGHT

AWARD

GUILTY ADDICTION OF THE YEAR
California Dream Eater (YouTube), Food Tripping with Molly (Zagat), Consumed (Eater), The World's Most Expensive Food (Channel 4/Public Television)
Cookie the News (Tastemade), Alaska's Wild Gourmet (Outdoor Channel), Buggin' Out with ChefPV (YouTube), Buzzfeed Tasty (Instagram/Facebook)
OUTSTANDING INTERACTIVE EXPERIENCE
PERSON OF THE YEAR
Eat Your Science (Alton Brown)
Martha & Snoop (VH1)
OUTSTANDING FOOD EVENT

SONG OF THE YEAR
Off the Grid, Aspen Food & Wine
Cake by the Ocean (DNCE)
OUTSTANDING FASHION EVENT
OUTSTANDING ANIMATION  FILM
Victoria's Secret Fashion Show
Sausage Party
OUTSTANDING TECHNOLOGY INNOVATION
OUTSTANDING HEALTH & SPORTS CONTENT

Virtual Reality: Samsung Gear, Merge VR, Google Daydream View, Insta360 Nano
Team Ninja Warrior (Esquire), Hilliard Studio Method Beautiful Bride Workout (HS)
GREAT TASTE PRIZE:

Culinary Tastemakers

GREAT TASTE PRIZE:

Hollywood Tastemakers

TBA

TBA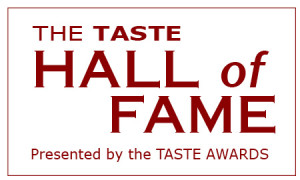 4TH TASTE HALL OF FAME INDUCTEES
1st Look (NBC)

A Chef's Life

A Taste of New York

Aarti Sequeira

Alive & Well

Bar Rescue

Bravo

Cloudy with a Chance of Meatballs

CNN Style

Cook's Country

Cool Kids Cook with Kid Chef Eliana


E! Entertainment Television

Food & Wine with Chef Jamie Gwen
Heritage Radio Network
How To Cook That
James Boo
Kin Community
Lafayette Food Junkie Radio Show
MasterChef Junior
Michael-Ann Rowe
Moveable Feast with Fine Cooking
Naked Wine Show
The Healthy Voyager
Travel With Kids
VICE Media
GENERAL AWARD CATEGORY WINNERS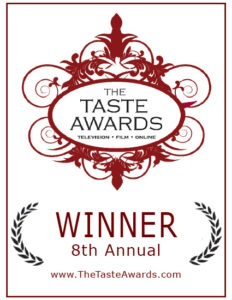 BEST DRINK OR BEVERAGE PROGRAM

Louisiana Eats: Cravings, Addiction and Recovery in Restaurants and Bars (*WINNER)
The Educational Drinking Show
Vineyard to Vintner – Documentary Short Film
Wine Oh TV
BEST FOOD PROGRAM: TELEVISION
Growing a Greener World
Joanne Weir Gets Fresh
Lidia Celebrates America Home for the Holidays (*WINNER)
MasterChef Junior
Mexico: One Plate at a Time with Rick Bayless
Moveable Feast with Fine Cooking
Pati's Mexican Table
Simply Ming Daniel Boulud
The Chew
BEST REALITY SERIES
Making it With Moraes – Wedding Cake
MasterChef (*WINNER)
MasterChef Junior
Sustainable Because – New Zealand Wine
The Wiseguy Kitchen Live Show
Vineyard to Vintner – Documentary Short Film
BEST CHEF IN A SERIES
Growing a Greener World
Jamie Oliver's Food Tube Channel (*WINNER)
JetFuel
Joanne Weir Gets Fresh
Julia M Usher's Recipes for a Sweet Life
MasterChef
Pati's Mexican Table
Simply Ming Daniel Boulud
Super Food
The Chew
Vincenzo's Plate
BEST FASHION FILM
Ignited
IndestruXtible
Midnight Walk (*WINNER)
Superstition
SYSTEM
Zen

FERRARA FLAME AWARD FOR BEST BRANDED CONTENT
Alfa Romeo – Red Range
Growing a Greener World (*WINNER)
Heritage
Jamie Oliver's Drinks Tube Channel (*WINNER)
Lobsters by the Pool
Once Upon a Plate (*WINNER)
Santa Cruz Mountains Winegrowers Association
Sweets in the Raw
The Educational Drinking Show
The Way of the Cocktail (Short Film)
The Wiseguy Kitchen Live Show
Vineyard to Vintner – Documentary Short Film
Visit Calistoga

FERRARA FLAME AWARD FOR BEST CITY OR REGIONAL PROGRAM
Bare Feet in NYC with Mickela Mallozzi
Brindiamo! Special Edition Venezia
California Wine Country with Steve Jaxon (*WINNER)
Eat Like a Local with Kelley Ferro
Sustainable Because – New Zealand Wine
The Lafayette Food Junkie Radio Show
Visit Calistoga
BEST GREEN OR ORGANIC PROGRAM, SERIES OR FILM
Chef Egg's Cooking Eggsperience
Growing a Greener World (*WINNER)
Living Homegrown Podcast
P. Allen Smith's Garden Home: Season 15 (*WINNER)
The Healthy Voyager
The Healthy Voyager's Global Kitchen
BEST NEW SERIES
A Queen In The Kitchen
Bare Feet in NYC with Mickela Mallozzi
Cait Straight Up!
Crate to Plate (*WINNER)
Fish the Dish
JetFuel
Making it With Moraes – Wedding Cake
One for the Road
Tale of Kitto Katto
The Educational Drinking Show (*WINNER)
The Wiseguy Kitchen Live Show
Tiny Kitchen
BEST SINGLE TOPIC SERIES
A Queen In The Kitchen
California Wine Country with Steve Jaxon
Growing a Greener World
How To Cook That (*WINNER)
Jamie Oliver's Food Tube Channel (*WINNER)
Julia M Usher's Recipes for a Sweet Life
Vineyard to Vintner – Documentary Short Film
Wine Oh TV
BEST TRAVEL PROGRAM
Bare Feet in NYC with Mickela Mallozzi
Eat Like a Local with Kelley Ferro
Food Markets in the belly of Florence
Italy Unexplored (*WINNER)
Moveable Feast with Fine Cooking
P. Allen Smith's Garden Home: Season 15
Pati's Mexican Table
The Healthy Voyager
VIEWER CHOICE AWARD CATEGORY NOMINEES
WINNERS TO BE ANNOUNCED IN FEBRUARY 2017 AT THE TASTE AWARDS EVENT
BEST FOOD PROGRAM – ONLINE/STREAMING
A Queen In The Kitchen
How To Cook That
Jamie Oliver's Food Tube Channel
JetFuel
Julia M Usher's Recipes for a Sweet Life
Louisiana Eats: Cravings, Addiction and Recovery in Restaurants and Bars
Making it With Moraes – Wedding Cake
The Trailer Park Cooking Show with Jolene Sugarbaker
BEST HOME CHEF IN A SERIES
A Queen In The Kitchen
Cait Straight Up!
Cooking for Dads
How To Cook That
Italy Unexplored
Making it With Moraes – Wedding Cake
Mind Over Munch
The Domestic Geek
The Healthy Voyager's Global Kitchen
The Trailer Park Cooking Show with Jolene Sugarbaker
BEST CRITIC OR REVIEW SERIES
California Wine Country with Steve Jaxon
The Chew
The Lafayette Food Junkie Radio Show
BEST FOOD TRAVEL SERIES
Brindiamo! Special Edition Venezia
Eat Like a Local with Kelley Ferro
Food Markets in the belly of Florence
Italy Unexplored
Moveable Feast with Fine Cooking
P. Allen Smith's Garden Home: Season 15
Pati's Mexican Table
Super Food
Tale of Kitto Katto
The Healthy Voyager
BEST RADIO BROADCAST
California Wine Country with Steve Jaxon
Living Homegrown Podcast
Louisiana Eats: Cravings, Addiction and Recovery in Restaurants and Bars
Snacky Tunes food & music radio
The Educational Drinking Show
The Lafayette Food Junkie Radio Show
What's Cookin' on Wine
BEST PODCAST
Design Matters with Debbie Millman podcast
Eat This Podcast
Living Homegrown Podcast
Louisiana Eats: Cravings, Addiction and Recovery in Restaurants and Bars
Snacky Tunes food & music podcast
The Educational Drinking Show
Wine for Normal People Podcast
BEST COMEDY
Dish It Out!
Making it With Moraes – Wedding Cake
The 3 Julias on 30A Television
The Trailer Park Cooking Show with Jolene Sugarbaker
BEST FASHION OR DESIGN PROGRAM
Alfa Romeo – Red Range
Design Matters with Debbie Millman podcast
DIY Cat Tent
Fashion News Live
Ignited
BEST INSTRUCTIONAL WEB SERIES
Cait Straight Up!
DIY Cat Tent
Jamie Oliver's Drinks Tube Channel
Julia M Usher's Recipes for a Sweet Life
Mind Over Munch
The Domestic Geek
The Edgy Veg
The Trailer Park Cooking Show with Jolene Sugarbaker
BEST INTERNATIONAL PROGRAM
A is for Apple
Crate to Plate
Eat Like a Local with Kelley Ferro
Fish the Dish
Food Markets in the belly of Florence
GLA Adventure Season 1
Sustainable Because – New Zealand Wine
Tale of Kitto Katto
BEST HEALTH & FITNESS PROGRAM (Food & Diet)
Mind Over Munch
P. Allen Smith's Garden Home: Season 15
Super Food
The Domestic Geek
The Healthy Voyager
The Healthy Voyager's Global Kitchen
"OFFICIAL SELECTION": BEST FEATURE-LENGTH FILM OR DOCUMENTARY
Blow The Duck
Crete – Under the Grecian Sun
Insatiable: The Homaro Cantu Story
Tables of Istanbul
"OFFICIAL SELECTION": BEST SHORT FILM OR DOCUMENTARY
After Auschwitz
Gluten Free Food Files: Episode 2
The Way of the Cocktail
"OFFICIAL SELECTION": BEST MINI FILM OR DOCUMENTARY
A Visual Journey through Iran : Sistan and Baluchistan
Chef Maya Erickson's Black Sesame Dessert
Lobsters by the Pool
Once Upon a Plate
Palpitations of Dust
Papermeal Series (1-5)
The Tell: Two Chefs
Tripvid: Coral Conservation, Langkawi
Tripvid: Tropical Rainforest Langkawi
West Coast Sea Salt
SEIJI HORIBUCHI AWARD FOR BEST ANIMATION EFFECTS IN A SERIES OR VIDEO
Cut to Bliss: Force of Fashion
Papermeal Series (1-5)
Victoria TV spot (Director's cut, full version)