Fashion Documentary Dior and I Continues Film Release Circuit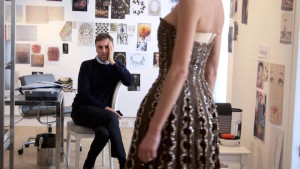 The documentary Dior & I makes the film festival and release circuit, to the admiration of fashion film fans.

Christian Dior. His legacy, name, brand, and mark on fashion remain one of the most significant in history. In Dior & I, the viewer is quickly immersed in what has become the very big business of The House of Dior during the most recent changing of the guard.
Raf Simmons and his team step into an atelier with the worlds best couturiers, many of whom have been working at the house for over 30 years. Getting a glimpse into the otherwordly workings of producing an haute couture show from both the perspective of the new creative director and the "premieres" who provide the meticulous handcrafting of the world's most expensive clothes as they all learn how to interpret and execute the vision of both Mr. Simmons and the House they have built with Dior.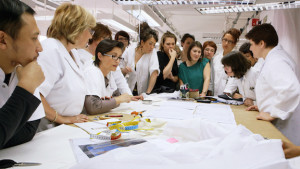 Interspersed with voice over excepts from Monsieur Dior's own autobiography, the filmmaker captures the frenetic pace with which the people, languages, fabrics, locations, and flowers (more than you would ever imagine) come together in just 8 short weeks.
Report by Susan Jones for TasteTV
VIEW TRAILER BELOW
ABOUT THE FILM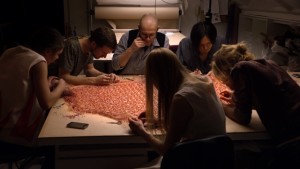 In 2012, legendary French fashion house Christian Dior Couture announced the appointment of designer Raf Simons as its head Creative Director. DIOR AND I takes a privileged, behind-the-scenes look at the high stakes, high tension makings of Simons' debut haute couture collection and how it returned to the origins of the house of Dior. The film also takes an intimate, cinema vérité-style glimpse at the inner workings of the Dior atelier, capturing the entire eight-week process up until the premiere of Simons' collection. This includes the little-seen atelier workers—the heart and soul of the fashion industry—some of whom have sewed for Dior for decades and do so with an unbridled passion. Together, they form a support system for Simons and help to create his masterpiece collection, with every line they sketch and bead they sew. A whirlwind of creativity, stress, determination and triumph, DIOR AND I marks the third fashion film for writer/director Frédéric Tcheng, who previously co-wrote and co-directed Diana Vreeland: The Eye Has to Travel and co-produced Valentino: The Last Emperor.   DIOR AND I  had its World Premiere at the 2014 Tribeca Film Festival.