Awards Ambassadors from the Past and Present.
Personality: Brian Boitano
As seen on : The Food Network
Programs: "What Would Brian Boitano Make?"
Bio: On his Food Network show, "What Would Brian Boitano Make?", Brian takes viewers on a reality cooking adventure as he creates amazing food for a new event in each episode focusing on innovative but accessible dishes, as well as demonstrates his culinary skills and talent for one-of-a-kind entertaining.
Few athletes have enjoyed the artistic and popular success that figure skater Brian Boitano has achieved since winning the gold medal for the United States at the 1988 Winter Olympics Games in Calgary, Canada. Brian, a three-time Olympian, has won more than 50 titles and was inducted into the World Figure Skating Hall of Fame, the U.S. Figure Skating Hall of Fame, and the National Italian-American Hall of Fame. Brian won a primetime Emmy Award for his starring role in the HBO movie "Carmen on Ice."
Personality: Bobby Bognar
As seen on: The History Channel
Programs: "Food Tech"
Bio: TV Host and Bobby Bognar has been in the food service industry for over 25 years. His love of food and foodservice led directly to his stint as host of "Food Tech," on History Channel. "Food Tech" has been broadcast in over 15 countries and translated into over a dozen different laguages.
Bobby is also an in-demand speaker, and has appeared in the US, Brazil, and Mexico, where he has lectured on agriculture, food, and foodservice.
Bobby owns a restaurant ("The Point") and a catering company in Los Angeles, and is currenlty developing two new television shows. Bobby and his Executive Chef wife, Mayet Cristobal, live in Hollywood, CA with their son Max.
Personality: Zane Lamprey
As seen on: The Travel Channel, HDNet
Programs: "Three Sheets", "Drinking Made Easy"
Bio: Zane Lamprey is constantly being told he has the best job in the world. As host of the cult sensation "Three Sheets," Zane's job is to travel around the world and drink. After four seasons, Zane has thrown back a few (and sometimes a few too many) in over 50 countries. As he drinks with the locals, viewers learn about the culture, people and spirits of the region.
Zane can also be seen on the imbibing travelogue, "Drinking Made Easy", which premieres on HDNet on October 6, 2010. The 24 episodes, which follow his national 53-city live comedy tour (also called Drinking Made Easy), highlight the drinking cultures and customs of U.S. cities. Zane is about to embark on another tour, Sing the Booze, to debut his new album of drinking songs, while hitting 30 cities across the US in the fall of 2010. Previously, Zane hosted "Have Fork, Will Travel" on the Food Network, where he traveled around the world and ate.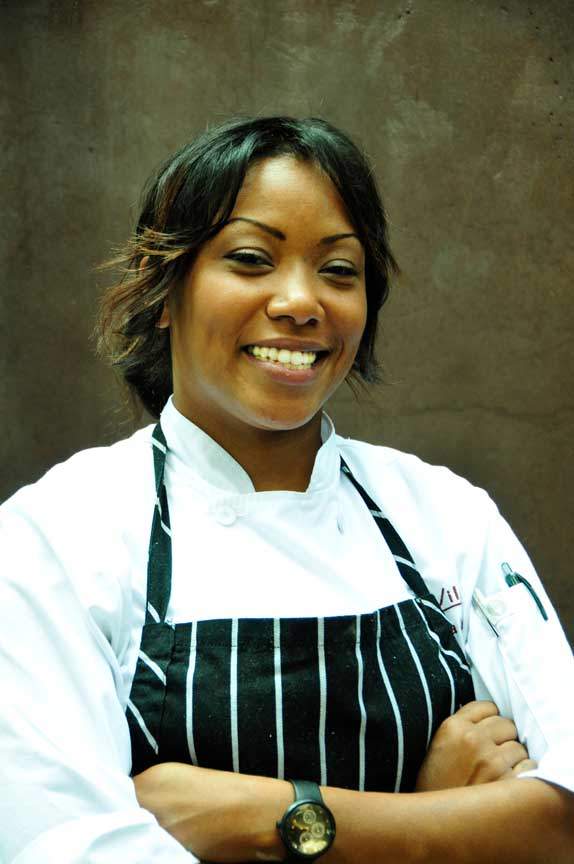 Personality: Nyesha Arrington
As seen on : Bravo, Food Network
Programs: "Top Chef", "Chef Hunter"
Bio: From the time she was a child pretending to run a restaurant, Nyesha Arrington, Wilshire's Executive Chef, has loved to cook.
A graduate of the Culinary School at the Art Institute of Los Angeles in 2001, Nyesha worked with her mentor, Josiah Citrin at Lemon Moon in Culver City and Mélisse in Santa Monica. Her resume also includes work with legendary French chef Joël Robuchon at his Michelin and Mobil award-winning Las Vegas restaurants, L'Atelier and The Mansion.
In 2011, Nyesha appeared simultaneously on two reality cooking shows as a contestant: Bravo's Top Chef: Texas and Food Network's new series, Chef Hunter, where she won the competition for the next executive chef at Wilshire in Los Angeles.
( photo credit: Kelley Carroll)
Copyright TCB CAFE Publishing & Media LLC All Rights Reserved
Celebrating the Year's Best in Food, Fashion and Lifestyle Programming on Television, in Film, Online, and on Radio