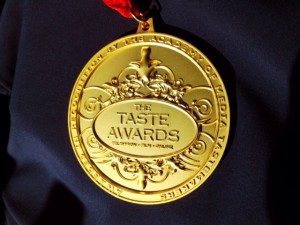 The 7th Annual TASTE AWARDS are proud to announce the Special Achievement Award Winners (Honorees), General Category Award Winners, and Viewers Choice Winners.
Award Winners of selected categories were announced on December 9, 2015, and along with the remaining award winners including Viewers Choice  categories received their honors on February 11th, 2016 at a Red Carpet Awards celebration in San Francisco.
The Red Carpet awards event featured a star-studded lineup of food and fashion TV celebrities, including winners, nominees and presenters.
SEE THE SPECIAL ACHIEVEMENT AWARD WINNERS, GENERAL AWARD CATEGORY WINNERS, AND VIEWERS CHOICE AWARD WINNERS, PLUS ALL NOMINEES  (BELOW).
SPECIAL ACHIEVEMENT AND HONOREE AWARD WINNERS
LIFETIME ACHIEVEMENT AWARD

PIONEER AWARD

Mary Ann Esposito (Ciao Italia/PBS)

Lidia Bastianich, WatchMojo

KIKKOMAN BREAKOUT FOODIES OF THE YEAR
BREAKOUT FASHIONISTAS OF THE YEAR
The Katering Show (YouTube), Rosanna Pansino with Wilton Cakes (YouTube), Tia Mowry at Home (Cooking Channel), The Domestic Geek (YouTube)

Steampunk'D (GSN), Amanda Steele (YouTube),  FashionByAlly (YouTube), Cassandra Bankson (YouTube)

BREAKOUT STORYTELLERS OF THE YEAR
OUTSTANDING VISION
Bizarre Foods Delicious Destinations (Travel Channel), Food Factory (FYI), Monocle 24 (Monocle), Gringolandia

Francis Ford Coppola, Pixar

OUTSTANDING PASSION
OUTSTANDING INSPIRATION
Rick Bayless, Martin Yan

The List (Velocity), Behind The Mask (Hulu)

STYLEMAKER AWARD

OUTSTANDING CULINARY TRAVEL EXPERIENCE

House of DVF (E!), Balance with Hannah Bronfman (SiriusXM),  Clothes Encounters (YouTube)

The Venetian Las Vegas

, Cathay Pacific Airways, the Wine Soul Train

VINERS OF THE YEAR
GUILTY ADDICTION OF THE YEAR
Chic-Adicta (Vine), A Fashion Nerd (Vine), Meagan Cignoli (Vine), Trowel and Fork (Vine), Saipancakes (Vine)

Botched (E!), Girlfriends' Guide to Divorce (Bravo), Dinner at Tiffani's (Cooking Channel)

SPOTLIGHT

AWARD

OUTSTANDING ONLINE SERVICE
"Beautiful Morning" (Levi's/FCB West), #HeyUSA (YouTube), Art Breakers (Ovation), StateXState (PTA Networks), Gemma's Bigger Bolder Baking (YouTube)

PopSugar.com, Mode.com

LIVESTREAM PROGRAM

PERSON OF THE YEAR
Baking With Pastry Chef Raiza with Al Roker (Meerkat), Al Roker Presents….In The Kitchen with Plated (Meerkat)

Steven and Chris (CBC), Ruth Reichl

OUTSTANDING FOOD EVENT
OUTSTANDING INTERACTIVE EXPERIENCE
Tasting Table's Lobster Rumble, Sauce Food Truck Fridays, Cochon 555

Zova app, SnapChat app, Foodies! The Musical

SONG OF THE YEAR
OUTSTANDING LIFESTYLE FILMS
Trap Queen (Fetty Wap, rapper/pie maker)

Dior and I, Wylie Dufresne's WD-50 documentary (Time), Vice Munchies presents Outsiders

OUTSTANDING TECHNOLOGY INNOVATION
OUTSTANDING ANIMATION SERIES OR FILM:
3D Printers: Formlabs, Sculpteo and Octave Systems
Bob's Burgers (Fox TV)

GREAT TASTE PRIZE:

Culinary Tastemakers

GREAT TASTE PRIZE:

Hollywood Tastemakers

TBA

TBA

TASTE HALL OF FAME INDUCTEES
• Babette's Feast (film)

• Alie & Georgia
• America's Test Kitchen
• Big Night (film)
• Bobby Flay
• Carla Hall
• CreateTV
• Epic Meal Time
• Fashion News Live
• Giada De Laurentiis
• Giorgio Armani
• Jamie Oliver
• Jazzy Vegetarian
• Jeannie Mai
• KQED television
• Laura Vitale
• Martin Yan
• Michelle Phan

• Martha Stewart

• Million Dollar Listing
• Ming Tsai
• ModTV
• Nadia G
• Narsai David
• P Allen Smith
• Pati's Mexican Table
• PopSugar
• Sara Moulton
• Small Screen Network
• Tanya Holland
• Tastemade
• The Chew
• WGBH television
• William Shatner
• Zagat
• Zero Point Zero Production (creators of The Mind of a Chef, No Reservations, Gourmet's Diary of a Foodie)
GENERAL AWARD CATEGORY NOMINEES

BEST DRINK OR BEVERAGE PROGRAM: WEB
Brown Bag Wine Tasting with William Shatner
Le Gourmet TV
Local Flight
Summer Sips In Sixty Seconds
The Culinary Institute of America and Taste NY video series
UNCORKED (*WINNER)
Wine Oh TV
BEST FOOD PROGRAM: TELEVISION
A Chef's Life (*WINNER)
America's Test Kitchen
BBQ with Franklin
Bravo's Top Chef
Cook's Country
MasterChef Junior Season 2
Mexico: One Plate at a Time with Rick Bayless
Moveable Feast with Fine Cooking
Real Girl's Kitchen
The Chew
The Cooking Odyssey PBS

THE KIKKOMAN AWARD FOR BEST REALITY SERIES: FOOD OR DRINK
A Chef's Life
Bravo's Top Chef (*WINNER)
Brown Bag Wine Tasting with William Shatner
I'll Have What Phil's Having
MasterChef Junior Season 2
Wahlburgers
BEST CHEF IN A SERIES
Mexico: One Plate at a Time with Rick Bayless (*WINNER)
A Chef's Life
The Culinary Institute of America and Taste NY video series
Crafted
Knife Fight
Le Gourmet TV
Moveable Feast with Fine Cooking
BEST FASHION FILM
Blue Bird (*WINNER)
Flazéda by Pearl
Ignited
Inside Amato By Furne One


FERRARA FLAME AWARD FOR BEST HOME DECOR AND DESIGN PROGRAM
Engineer Your Space
In Beth's Garden
Living Homegrown Podcast
P. Allen Smith's Garden Home (*WINNER)
Tiny House Nation (*WINNER)
BEST REALITY SERIES: FASHION, DESIGN OR HOME DECOR
Bravo's Flipping Out
Bravo's Million Dollar Listing San Francisco (*WINNER)
Engineer Your Space
The Kaya Jones Reality Show
BEST INTERNATIONAL PROGRAM
Bare Feet® with Mickela Mallozzi
Cuisiniére by Moonberry
Dulce Delight for Globo
Mexico: One Plate at a Time with Rick Bayless (*WINNER)
One Pot Chef
One World Kitchen
Recipes Web – Massimo Zambiasi
Tastemade Brasil YouTube Channel
BEST INTERACTIVE EBOOK
Christina Cooks (*WINNER)
Smartee Plate: Teddy Tries a Veggie
SEIJI HORIBUCHI AWARD FOR BEST ANIMATION EFFECTS IN A SERIES
America's Test Kitchen (*WINNER)
Cook's Country
Kitchen Vignettes
BEST CRITIC OR REVIEW SERIES
California Wine Country with Steve Jaxon
Larry King Now
The Chew (*WINNER)
The Lafayette Food Junkie Radio Show
BEST NEWSPAPER OR MAGAZINE PROGRAM
Alive & Well
Larry King Now
The Chew (*WINNER)
BEST FOOD TRAVEL SERIES: TELEVISION
Annabel Langbein The Free Range Cook; Simple Pleasures
Best Bars in America
I'll Have What Phil's Having (*WINNER)
Mexico: One Plate at a Time with Rick Bayless
Moveable Feast with Fine Cooking
Pati's Mexican Table
Rusty s RockFeast: Backstage with Zac Brown Band
The Cooking Odyssey PBS
UNCORKED
BEST BRANDED PROGRAM
Brown Bag Wine Tasting with William Shatner (*WINNER)
Crafted
Growing a Greener World
P. Allen Smith's Garden Home (Season 14)
Summer Sips In Sixty Seconds
We Believe in Magic: House of Matriarch Marketing Campaign for Nordstrom Fall Launch
Wine Cribs
BEST CITY OR REGIONAL PROGRAM
1 Minute Meal
A Taste of New York TV show (*WINNER)
Bare Feet® with Mickela Mallozzi
California Wine Country with Steve Jaxon
Living Simply With Candace
Tastemade Brasil YouTube Channel
Wine Oh TV
BEST GREEN OR ORGANIC PROGRAM, SERIES OR FILM
Annabel Langbein The Free Range Cook; Simple Pleasures
CAFFEINATED
Growing a Greener World (*WINNER)
In Beth's Garden
Kitchen Vignettes
P. Allen Smith's Garden Home
The Healthy Voyager Travel Show
The Healthy Voyager's Global Kitchen
BEST NEW SERIES
BBQ with Franklin
Bravo's Million Dollar Listing San Francisco
I'll Have What Phil's Having (*WINNER)
In Beth's Garden
Local Flight
Put Your Best Fish Forward
Summer Sips In Sixty Seconds
BEST SINGLE TOPIC SERIES
California Wine Country with Steve Jaxon
Elise Strachan of MyCupcakeAddiction
Entertaining with Beth
How To Cook That
In Beth's Garden
Joy of Baking
P. Allen Smith's Garden Home (Season 14)
The Artisans of Italy (*WINNER)
Wine Oh TV
BEST TRAVEL PROGRAM
Annabel Langbein The Free Range Cook; Simple Pleasures
Best Bars in America (*WINNER)
Local Flight
Mexico: One Plate at a Time with Rick Bayless
Moveable Feast with Fine Cooking
The Artisans of Italy
The Cooking Odyssey PBS
The Healthy Voyager Travel Show
UNCORKED
BEST KIDS PROGRAM
MasterChef Junior (*WINNER)
Travel With Kids
BEST ENTERTAINMENT NEWS SERIES – ONLINE
Brown Bag Wine Tasting with William Shatner (*WINNER)
Fashion News Live
Larry King Now
BEST ETHNIC PROGRAM, SERIES OR FILM: BLACK
Chef Jeff's Flip My Food (*WINNER)
Living Simply With Candace
Nothing With Something: Death of a Diner (*WINNER)
Wine Talk with Marcia
BEST ETHNIC PROGRAM, SERIES OR FILM: HISPANIC / LATINO
Dulce Delight
Dulce Delight for Globo
Pati's Mexican Table (*WINNER)
Tastemade Brasil YouTube Channel
BEST FOREIGN LANGUAGE PROGRAM, SERIES OR FILM
Dulce Delight for Globo (*WINNER)
Inside Amato By Furne One
Tastemade Brasil YouTube Channel (*WINNER)


FERRARA FLAME AWARD FOR BEST BRANDED VIDEO PROMOTION OR CAMPAIGN
Aging Backwards with Miranda Esmonde-White
Brown Bag Wine Tasting with William Shatner (Stags Leap Wine Cellars episode) (*WINNER)
Flazéda by Pearl
Kids Plant It Earth
The Kaya Jones Reality Show
We Believe in Magic: House of Matriarch Marketing Campaign for Nordstrom Fall Launch
Wine Cribs
BEST HEALTH & FITNESS PROGRAM (Food & Diet)
Alive & Well
Christina Cooks
Jazzy Vegetarian (*WINNER)
Living Simply With Candace
Mind Over Munch (*WINNER)
Smartee Plate: Teddy Tries a Veggie (ebook)
Summer Sips In Sixty Seconds (*WINNER)
The Domestic Geek
The Healthy Voyager Travel Show (*WINNER)
The Healthy Voyager's Global Kitchen
BEST HEALTH & FITNESS PROGRAM (Physical & Exercise)
Aging Backwards with Miranda Esmonde-White
Hot Flash Hottie
Living Simply with Candace (*WINNER)
BEST OUTDOORS ACTIVITY COVERAGE
Paradise Waits (*WINNER)
Travel with Kids
unReal
OUTSTANDING OUTDOORS, SPORTS OR ADVENTURE FILM
Fyva
Paradise Waits (*WINNER)
unReal
VIEWER CHOICE AWARD CATEGORY NOMINEES

WINNERS ANNOUNCED ON FEBRUARY 11, 2016 AT THE TASTE AWARDS EVENT
BEST FOOD PROGRAM: WEB |
Crafted
Dulce Delight
How To Cook That (*WINNER)
Le Gourmet TV
One World Kitchen
The Artisans of Italy
The Culinary Institute of America and Taste NY video series
The Grill Iron
BEST FOOD TRAVEL SERIES: WEB |
Local Flight
Original Fare
The Artisans of Italy (*WINNER)
The Healthy Voyager Travel Show
UNCORKED
BEST HOME CHEF IN A SERIES |
Annabel Langbein The Free Range Cook (*WINNER)
Dish It Out!
Dulce Delight
Elise Strachan of MyCupcakeAddiction
How To Cook That
Jazzy Vegetarian
Kitchen Vignettes
One Pot Chef
Real Girl's Kitchen
The Domestic Geek
The Trailer Park Cooking Show With Jolene Sugarbaker
"OFFICIAL SELECTION": BEST FEATURE-LENGTH FILM OR DOCUMENTARY |
CAFFEINATED (*WINNER)
Nothing With Something: Death of a Diner
Paradise Waits
"OFFICIAL SELECTION": BEST SHORT FILM OR DOCUMENTARY |
Crafted (*WINNER)
Inside Amato By Furne One
Krusing America
Life & Hummus
Malibu Living
unReal
"OFFICIAL SELECTION": BEST MINI FILM OR DOCUMENTARY |
Blue Bird
Experience the Palette, Before the Taste.
Flazéda by Pearl (*WINNER)
Wildflowers: The Margaret McDermott Gift
BEST FOOD OR DRINK RADIO BROADCAST |
America's Test Kitchen Radio
Bite and Booze Radio Show hosted by Jay Ducote
California Wine Country with Steve Jaxon
Food & Wine with Chef Jamie Gwen
Living Homegrown Podcast (*WINNER)
Pass the Salt
Slow Living Radio
What's Cookin' on Wine
Wine Talk with Marcia
BEST FASHION OR DESIGN: WEB PROGRAM OR VIDEO |
Engineer Your Space
Fashion News Live (*WINNER)
The Kaya Jones Reality Show
BEST COMEDY |
Bravo's Girlfriend's Guide to Divorce
Bravo's Odd Mom Out
Dish It Out! (*WINNER)
The 3 Julias
The Trailer Park Cooking Show With Jolene Sugarbaker
BEST INSTRUCTIONAL WEB SERIES |
Cuisiniére by Moonberry
Dish It Out!
Dulce Delight
Elise Strachan of MyCupcakeAddiction
How To Cook That
Mind Over Munch (*WINNER)
One Pot Chef
Put Your Best Fish Forward
The Culinary Institute of America and Taste NY video series
The Trailer Park Cooking Show With Jolene Sugarbaker