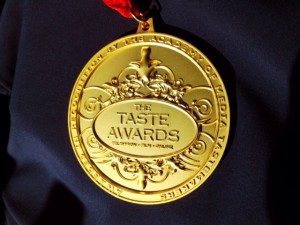 TASTE AWARDS Finalists are selected from nomination submissions by the ACADEMY OF MEDIA TASTEMAKERS, a diverse and respected association of food & wine editors, writers and bloggers, chefs, fashion journalists, television producers and stations, online video platforms, mobile device providers, retail and technology enterprises, and others.
See the Official Award Winners, Nominees & Honorees below. Award Winners are highlighted in red.
Winners of the 4th Annual TASTE AWARDS were announced on December 4, 2012, and received their honors on January 17th, 2013 at a Red Carpet Hollywood celebration in Los Angeles.
SEE THE WINNERS, NOMINEES AND HONOREES FOR THE ANNUAL TASTE AWARDS (BELOW).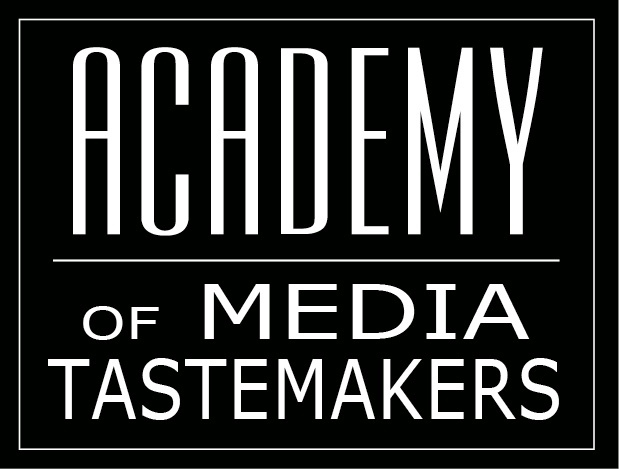 SPECIAL ACHIEVEMENT & HONOREE AWARD WINNERS


| | |
| --- | --- |
| Tastemaker of the Year | Andrew Zimmern |
| Pioneer Award | Wolfgang Puck, Gordon Ramsay |
| Kikkoman Breakout Foodies of the Year | Vice Munchies, Cook Taste Eat, Hungry Channel, Tasted Channel |
| Breakout Fashionistas of the Year | About Face: Supermodels Then and Now (HBO), Nowness.com, Real Housewives of Beverly Hills (Bravo), Styled By June (VH1) |
| Breakout Storytellers of the Year | The WIGS Channel: Danielle /Audrey |
| Outstanding Vision | Marcus Samuelsson |
| Outstanding Passion | Fabio Viviani, Joe Ciminera |
| Outstanding Inspiration | Jiro Dreams of Sushi |
| Outstanding Entertainer | Nadia G |
| Guilty Addiction of the Year | Chicagolicious (Style), Shahs of Sunset (Bravo), Cooking with Dog |
| Great Taste | Laura in the Kitchen, Naked Wine Show, Small Screen Network |
| Stylemaker of the Year | House of Style (MTV) |
| Outstanding Enhanced eBook | "The Pioneer Woman Cooks: Food from My Frontier", "The Dahlia Bakery Cookbook" |
Best Drink or Beverage Program
| | | | |
| --- | --- | --- | --- |
| Best Drink or Beverage Program | Classy Ladies with Alie Ward and Georgia Hardstark | The Cooking Channel / National Picture Show Co. | |
|   | Inspired Sips with the Liquid Muse | Small Screen, Inc. | |
|   | The Proper Pour with Charlotte Voisey | Small Screen, Inc. | |
|   | Kathy Casey's Liquid Kitchen | Small Screen, Inc. | |
|   | Raising the Bar with Jamie Boudreau | Small Screen, Inc. | |
|   | Art of the Drink TV | Lion's Cathedral Productions, LLC | |
Best Food Program: Television
| | | | |
| --- | --- | --- | --- |
| Best Food Program: Television | Top Chef | Bravo Media/Magical Elves | |
|   | America's Test Kitchen | America's Test Kitchen, LLC | |
|   | Top Chef Masters | Bravo Media/Magical Elves | |
|   | Mexico: One Plate at a Time with Rick Bayless | Frontera Media / Luminair Media | |
|   | Best Thing I Ever Ate | Authentic Entertainment | |
|   | Restaurant: Impossible | Shooters TV & Marc Summers Productions | |
Best Food Travel Series: Television

Best Food Travel Series: Television

New Scandinavian Cooking

Tellus Works AS

 

Around the World in 80 Plates

Bravo Media/Magical Elves

 

Kimchi Chronicles

Frappe Inc

Official Site
Broadcast on Public Television

 

Cuisine Culture

Henri Sera Productions

Official Site
Broadcast on Public Television

 

The American Chef

A&E Networks / Warner Hanson Television

Preview
Broadcast on Bio (The Biography Channel)

 

Good Food America

Veria Living/ Two River Pictures/ NA
Best Food Travel Series: Web

Best Food Travel Series: Web

Chefs Run Wild AKA Without Borders

Frogwater production
Lost In Travel Productions
Without Borders

 

Classy Ladies with Alie Ward and Georgia Hardstark

The Cooking Channel / National Picture Show Co.

 

CHOW Tour Portland: Asian Small Plates

CHOW

 

Savoring the Best of World Flavors: The Caribbean

The Culinary Institute of America

 

Small Town Flavor

Social Frequency Media Communications

 

Off the Beaten Palate

Mikey's Productions
The Kikkoman Award for Best Reality Series: Food or Drink


| | | | |
| --- | --- | --- | --- |
| The Kikkoman Award for Best Reality Series: Food or Drink | Around the World in 80 Plates | Bravo Media/Magical Elves | |
|   | food. curated. | food. curated. | |
|   | Top Chef Masters | Bravo Media/Magical Elves | |
|   | Top Chef | Bravo Media/Magical Elves | |
|   | Best Thing I Ever Ate | Authentic Entertainment | |
|   | Restaurant: Impossible | Shooters TV & Marc Summers Productions | |
Best Fashion or Design Program: Television

| | | | |
| --- | --- | --- | --- |
| Best Fashion or Design Program: Television | What Not to Wear | Produced by BBC Worldwide Productions for TLC | |
|   | Million Dollar Decorators | Bravo Media/GoodBye Pictures | |
|   | Say Yes to the Dress: Bridesmaids | Produced by NorthSouth Productions for TLC | |
|   | Say Yes to the Dress | Produced by Half Yard Productions for TLC | |
|   | Interior Therapy with Jeff Lewis | Authentic Entertainment | |
|   | How Do I Look? | Style | |
Best Reality Series: Fashion, Design or Home Decor

| | | | |
| --- | --- | --- | --- |
| Best Reality Series: Fashion, Design or Home Decor | What Not to Wear | Produced by BBC Worldwide Productions for TLC | |
|   | Interior Therapy with Jeff Lewis | Authentic Entertainment | |
|   | How Do I Look? | Style | |
|   | Million Dollar Listing | Bravo Media/World of Wonder | |
|   | Craft Wars | Produced for TLC by Super Delicious | |
|   | Flipping Out | Authentic Entertainment | |
Best Green or Organic Program

| | | | |
| --- | --- | --- | --- |
| Best Green or Organic Program |   |   |   |
|   | food. curated. | food. curated. | |
|   | The Healthy Voyager | The Healthy Voyager | |
|   | Jazzy Vegetarian | Virtual Media Productions | |
|   | Crunchy Scott | Crunchy Productions | |
|   | Alive & Well with Michelle Harris | Lago Productions | |
|   | Slow Living Radio | Slow Living Radio/CRN Network | |
Best City or Regional Program

| | | | |
| --- | --- | --- | --- |
| Best City or Regional Program | Cake Boss | Produced by High Noon Entertainment for TLC | |
|   | A Taste of New York | A Taste of New York, Inc. | |
|   | No One Ever Went Hungry: Cajun Food Traditions Then & Now | e/Prime Media LLC | |
|   | 1st Look: Korea | LXTV | |
|   | Million Dollar Listing New York | Bravo Media/Pink Sneakers Productions | |
|   | Check Please, Bay Area | KQED | View |
Best New Series

Best New Series

CHOW CIAO! with Fabio Viviani

Yahoo! Studios

 

Interior Therapy with Jeff Lewis

Authentic Entertainment

 

Kimchi Chronicles

Frappe Inc

Official Site
Broadcast on Public Television

 

Around the World in 80 Plates

Bravo Media

 

Small Town Flavor

Social Frequency Media Communications

 

Joanne Weir's Cooking Confidence

Joanne Weir Productions
Best Single Topic Series

Best Single Topic Series

Million Dollar Listing New York

Bravo Media/Pink Sneakers Productions

 

Classy Ladies With Alie & Georgia

Cooking Channel

 

What Not to Wear

Produced by BBC Worldwide Productions for TLC
Half Yard Productions for TLC

 

Say Yes to the Dress

Produced by Half Yard Productions for TLC

 

Best Thing I Ever Ate

Authentic Entertainment

 

Mexico: One Plate at a Time with Rick Bayless

Frontera Media / Luminair Media
Best Chef in a Series

Best Chef in a Series

Mexico: One Plate at a Time with Rick Bayless

Frontera Media / Luminair Media

 

Cuisine Culture

Henri Sera Productions

Official Site
Broadcast on Public Television

 

CHOW CIAO! with Fabio Viviani

Yahoo! Studios

 

Joanne Weir's Cooking Confidence

Joanne Weir Productions

 

Top Chef Masters

Bravo Media/Magical Elves

 

Restaurant: Impossible

Shooters TV & Marc Summers Productions
Best Travel Program

| | | | |
| --- | --- | --- | --- |
| Best Travel Program | Savoring the Best of World Flavors: The Caribbean | The Culinary Institute of America | |
|   | Around the World in 80 Plates | Bravo Media | |
|   | Small Town Flavor | Social Frequency Media Communications | |
|   | The Healthy Voyager | The Healthy Voyager | |
|   | New Scandinavian Cooking | Tellus Works AS | |
|   | Rick Steves | Rick Steves | View |
Best Home Decor and Design Program



| | | | |
| --- | --- | --- | --- |
| Best Home Decor and Design Program, presented by Ferrara Flame |   |   |   |
|   | At Home with P. Allen Smith | P. Allen Smith / Hortus, LTD | View |
|   | Engineer Your Space | Parinama Productions | View |
|   | Flipping Out | Authentic Entertainment | |
|   | Four Houses | Produced by ITV Studios America for TLC | View |
|   | Interior Therapy with Jeff Lewis | Interior Therapy with Jeff Lewis | |
|   | Million Dollar Decorators | Bravo Media/GoodBye Pictures | |
Best Ethnic Program

Best Ethnic Program
Kimchi Chronicles
Frappe Inc
Official Site
Broadcast on Public Television
 
Mexico: One Plate at a Time with Rick Bayless
Frontera Media / Luminair Media

View

 
No One Ever Went Hungry: Cajun Food Traditions Then & Now
e/Prime Media LLC
View
 
1st Look: Global Perfection
LXTV
View
 
CookingWithAlia
YouTube Next Chef
Best Health & Fitness Program

| | | | |
| --- | --- | --- | --- |
| Best Health & Fitness Program | Cooking with Egg | Biologic Media Productions | View |
|   | Bikini Lifestyles featuring the Bikini Chef Susan Irby | Pink Bikini Productions, LLC | |
|   | The Healthy Voyager | The Healthy Voyager | |
Best Branded Video Promotion or Campaign

| | | | |
| --- | --- | --- | --- |
| Best Branded Video Promotion or Campaign | Average Betty / Idaho Potatoes | Average Betty | View |
|   | More Than Maraschino / Luxardo Maraschino | Small Screen, Inc. | View |
|   | 1st Look / Korean Food Foundation | LXTV | View |
|   | Dasani ECOMMUNITY - In Food Category, A Social Web Series featuring Vegan Chef & Eco Tastemaker Leslie Durso | LeslieDurso.com (Los Angeles) produced by Juice Groove Films (New York City) | |
Best Mobile App

| | | | |
| --- | --- | --- | --- |
| Best Mobile App | BakeSpace.com's Cookbook Cafe | BakeSpace.com | Go To |
|   | Hello, Cupcake! | Culinate, Inc. | Go To |
|   | How to Cook Everything | Culinate, Inc. / Mark Bittman | Go To |
|   | How to Cook Everything Vegetarian | Culinate, Inc. | Go To |
|   | Let's Cook! with Chef Fabio Viviani and Bertolli Olive Oil | FKM | Go To |
|   | Top Chef Judges Table App | Bravo Digital Media | Go To |
Best Beauty Program

| | | | |
| --- | --- | --- | --- |
| Best Beauty Program | Fashion News Live TV | RLG Productions, Corp | View |
|   | Kaitlyn's Beauty Journal | KTSF Channel 26 | |
|   | How Do I Look? | Style | |
|   | Glam Fairy | Style | |
|   | Nail Files | 495 Productions | |
|   | Speaking of Beauty with Holly Fulger | Speaking Of Beauty Productions | View |
VIEWER CHOICE
Best Food Program: Web
| | | | |
| --- | --- | --- | --- |
| Best Food Program: Web | Nadia G's Bitchin' Kitchen | b360 media | |
|   | Good to Know | The Cooking Channel / National Picture Show Co. | |
|   | food. curated. | food. curated. | |
|   | CIACulinaryIntelligence.com | The Culinary Institute of America | |
|   | Top Chef: Last Chance Kitchen (Episode 10: Beverly Vs. Nyesha) | Bravo Digital Media & Magical Elves | |
|   | Average Betty | Average Betty | |
|   | CHOW CIAO! with Fabio Viviani | Yahoo! Studios | |
|   | Food Wishes | Food Wishes Video Recipes | |
Best Home Chef in a Series

| | | | |
| --- | --- | --- | --- |
| Best Home Chef in a Series | Cooking with Egg | Biologic Media Productions | |
|   | Lovely Lady Cakes TV | Lovely Lady Cakes TV | |
|   | Extra Virgin | The Tuscan Gun LLC, Cooking Channel | |
|   | Food Wishes | Food Wishes Video Recipes | |
|   | Average Betty | Average Betty | |
|   | RV Cooking Show | RV Cooking Show | |
|   | Jazzy Vegetarian | Virtual Media Productions | |
|   | Nadia G's Bitchin' Kitchen | b360 media | |
|   | The Trailer Park Cooking Show With Jolene Sugarbaker | The Jolene Sugarbaker Company | |
Best Film or Documentary

| | | | |
| --- | --- | --- | --- |
| Best Film or Documentary | The Sandwich Nazi | Lewis Bennett | |
|   | food. curated. | food. curated. | |
|   | The American Chef | A&E Networks / Warner Hanson Television | |
|   | Savoring the Best of World Flavors: The Caribbean | The Culinary Institute of America | |
|   | 1st Look: Road to London | LXTV | |
|   | Jiro Dreams of Sushi | Magnolia Pictures | |
|   | The Queen of Versailles | Magnolia Pictures | |
|   | In Organic We Trust | In Organic We Trust | |
Best Food or Drink Radio Broadcast

| | | | |
| --- | --- | --- | --- |
| Best Food or Drink Radio Broadcast | The Drive with Steve Jaxon's "Wine Wednesday" | Vicario Productions | |
|   | Bikini Lifestyles featuring the Bikini Chef Susan Irby, KABC Talk Radio | Pink Bikini Productions, LLC | |
|   | Slow Living Radio | Slow Living Radio/CRN Network | |
|   | One For the Road With The Liquid Muse | The Liquid Muse / Tom Leykis, Producers - Natalie Bovis, Host | |
|   | Beer Night Out on BBQSuperStars | BBQSuperStars | |
|   | America's Test Kitchen | America's Test Kitchen, LLC | |
|   | Good Food | KCRW | |
|   | Dining Around with Joel Riddell | Clear Channel Media and Entertainment, NewsTalk910 | |

Best Fashion or Design: Web Program or Video

| | | | |
| --- | --- | --- | --- |
| Best Fashion or Design: Web Program or Video | Fashion News Live | RLG Productions | View |
|   | Full Circle | Callum Cooper, John Kassab, Klezinski | View |
|   | MODTV | MODTV Fashion Network | View |
|   | Stamen | Great Guns | View |
Best Comedy

| | | | |
| --- | --- | --- | --- |
| Best Comedy Series | Classy Ladies With Alie & Georgia | The Cooking Channel / National Picture Show Co. | View |
|   | Little Grill Big Flavor | A Mazin' Productions | View |
|   | Nadia G's Bitchin' Kitchen | b360 media | View |
|   | The Sandwich Nazi | Lewis Bennett | View |
|   | The Trailer Park Cooking Show With Jolene Sugarbaker | The Jolene Sugarbaker Company | View |