WINNERS, HONOREES, AND NOMINEES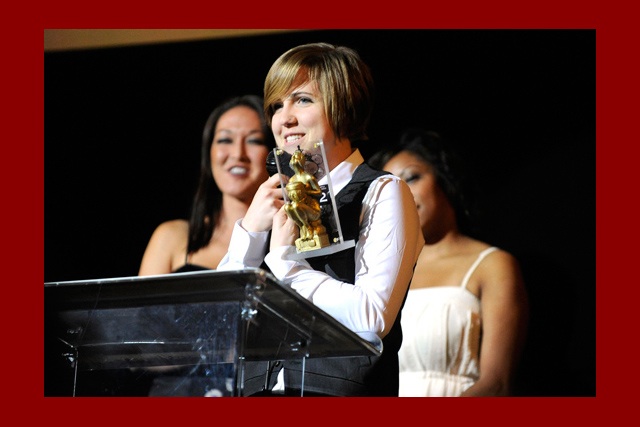 The 3rd Annual TASTE AWARDS, also known as the TASTY Awards, were presented in the following categories for programs, series or films on the Internet, on television, on mobile, in theaters, and on radio. Finalist Nominees were selected from progams submitted for consideration between July 17th and August 25th, 2011.
Winners of the 3rd Annual TASTE AWARDS were announced and received their honors on January 12th, 2012 at a Red Carpet Awards Show event in HOLLYWOOD.
The categories for all nominations can be seen below.
Winners are highlighted in Red
Nominee instructions can be found under Nominee Resources.
| | |
| --- | --- |
| | SPECIAL ACHIEVEMENT AWARDS |
| OFFICIAL HONOREES | |
| Tastemaker of the Year | The Chew |
| The Pioneer Award | Ming Tsai, Lidia Bastianich |
| Outstanding Inspiration | |
| Outstanding Vision | |
| Outstanding Passion | |
| The Seiji Horibuchi Award for Outstanding Animation | Kung Fu Panda 2 |
| Outstanding Technology Innovation | Canon 7D |
| Outstanding Entertainer | Stanley Tucci (Vine Talk, Big Night) |
| Breakout Foodies of the Year | Cuisine Culture (Public Television), Ludo Bites America (Sundance Channel), Restaurant Impossible (Food Network), Reservations Required (Halogen) |
| Breakout Fashionistas of the Year | All on the Line (Sundance Channel), Mad Fashion (Bravo), Kaitlyn's Beauty Journal, Nail Files (TV Guide) |
| Guilty Addiction of the Year | Beverly Hills Fabulous (VH1), Famous Foods (VH1) |
| Great Taste | LX TV, Tabatha's Salon Takeover |
OFFICIAL FINALISTS

Best Drink or Beverage Program: Television
Wine & Dine with Mastro


Drinking Made Easy

(HDNet)
The Winemakers (Public Television)
B.Y.O.B. TV (KOFY TV)
Grape Notes (Food Network)
View
View
View
View
View
Best Drink or Beverage Program: Web
Drinks with Alie & Georgia


Raising the Bar with Jamie Boudreau


Naked Wine Show
Thirsty Girl TV
Wine Spectactor Magazine
Andrea Wine

View


View
View
View
View
View
Best Food Program: Television
The Science & Art of Cheese (KQED, PBS)
Good Eats (Food Network)


No Reservations

(Travel Channel)
Top Chef (Bravo)
Jamie Oliver's Food Revolution (ABC)
Kitchen Nightmares (Fox)
View
View
View
View
View
View
Best Food Program: Web
Bitchin Kitchen


Food Wishes


Average Betty
Jolene Sugarbaker The Trailer Park Queen
The Fire House Chef
WTF (What's This Food)
Fridays with Fabio!
Without Borders
View


View




View




View




View




View




View




View

Best Food Travel Series: Television
Foodcrafters (Cooking Channel)
Bizarre Foods (Travel Channel)
The Great Food Truck Race (Food Network)
Man v. Food (Travel Channel)


No Reservations

(Travel Channel)
Eat Street (Cooking Channel)
View
View
View
View
View
View
Best Food Travel Series: Web
Chef Tips with Jason Hill
Off The Beaten Path
RV Cooking Show


Without Borders


Off the Beaten Palate

View


View


View




View




View

The Kikkoman Award for Best Reality Series: Food or Drink




Cupcake Wars (Food Network)
Hell's Kitchen (Fox)
The Next Food Network Star (Food Network)


Top Chef

(Bravo)
Top Chef: Just Desserts (Bravo)
Restaurant Impossible (Food Network)
View
View
View
View
View
View
Best Fashion or Design Program : Television
How Do I Look? (Style Network)
Fashion Police (E! Entertainment)
What Not To Wear (TLC)
America's Next Top Model (CW)


Project Runway

(Lifetime)
The Rachel Zoe Project (Bravo)

View




View


View
View
View
View
Best Reality Series: Fashion, Design or Home Decor
HGTV Green Home 2011 (HGTV)
HGTV Design Star (HGTV)
Divine Design (HGTV)
America's Next Top Model (CW)


Project Runway

(Lifetime)
View
View
View
View
View
Best Home Decor and Design Program : Television
Carson Nation (OWN)
Home Takeover (OWN)
Home Made Simple (TLC)
HGTV Green Home 2011 (HGTV)


HGTV Design Star

(HGTV)
Divine Design (HGTV)
View
View
View
View
View
View
Best City or Regional Program
Say Yes to the Dress: Atlanta (TLC)
A Taste of New York (TWC)


Check Please, Bay Area

(PBS, KQED)
dineLA
Foodies: California (NBC)
PlumTV (Plum TV)

View




View


View
View
View
View
Best Branded Program
Magnum Ice Cream Original Short Film Series by Karl Lagerfeld
Mutineer Magazine's Cognac Conversations


Cooking.com


Cuisinart
Kraft Cooking School
Lanvin Fall 2011 Campaign Movie

View

Best Newspaper or Magazine Program

Bon Appetit


Cook's Country
Food and Wine Magazine
LA Times
New York Magazine Food
Nylon Magazine TV
View
View
View
View
View
View
Best New Series
GastroLab
Too Fat for 15: Fighting Back (Style)
The Fire House Chef
Ludo Bites America (Sundance)


Originals with Emeril

(Cooking Channel)
Extra Virgin (Cooking Channel)

View




View




View


View
View
View
Best Single Topic Series
What Not To Wear (TLC)
Naked Wine Show
Raising the Bar with Jamie Boudreau
Simply Ming (Public Television)
Mexico – One Plate at a Time (Public)


Top Chef: Just Desserts

(Bravo)
View


View




View


View
View
View
Best Critic or Review Series
Fashion Police (E! Entertainment)


Average Betty


Naked Wine Show
Check Please, Bay Area (PBS KQED)
Check Please, Chicago (PBS WTTW)
Foodies: California (NBC)
Reservations Required (Halogen TV)

View




View




View


View
View
View
View
Best Green or Organic Program
Food Wishes
Beneath the Surface: Gulf Seafood's Fight for Survival
HGTV Green Home 2011 (HGTV)
Ani's Raw Food Kitchen
Chefs A'Field (Public Television)


Aarti Party

(Food Network)

View




View
Best Green or Organic Program
Food Wishes
Beneath the Surface: Gulf Seafood's Fight for Survival
HGTV Green Home 2011 (HGTV)
Ani's Raw Food Kitchen
Chefs A'Field (Public Television)


Aarti Party

(Food Network)

View




View

Best Chef in a Series
Cake Boss (Buddy Valastro, TLC)


Jamie Oliver's Food Revolution

(ABC)
Throwdown With Bobby Flay (Food Net.)
Mexico – One Plate at a Time (Rick Bayless, Public Television)
Good Eats (Alton Brown Food Network)
Barefoot Contessa (Ina Garten, Food Network)

View


View
View
View
Best Ethnic Program
The Cooking Odyssey (Public Television)
Simply Ming (Public Television)


Mexico – One Plate at a Time

(Public)
Spice Goddess (Cooking Channel)
Easy Chinese San Francisco (Cooking Channel)
Passport Hawaii (KGMB-CBS, KHNL)
View
View
View
View
View
View
Best Foreign Language Program
En La Cocina Para Mi Amor
Kaitlyn's Beauty Journal (various)
Al sabor del chef (Univision)


Delicioso

(Univision)
View
View
View
View

CATEGORY

VIEWERS CHOICE AWARD NOMINEES

WATCH

Best Home Chef in a Series

FoodCrafters

View

Hungry Girl

View
Extra Virgin
View
Best Fashion or Design Program: Web
Chiara Marandellas – FashionPaparazzis.com
View
View
View
View

Daily Front Row Chic Report

View
Best Comedy Series
Best Film or Documentary

God Save My Shoes

View

Magnum Ice Cream Original Short Film Series by Karl Lagerfeld

Fashion's Night Out (CBS)
View
Best International Program

Tokyo Fashion Express (Japan)

View

Euromaxx (Germany)

View
Maangchi (Korea)

Quickies In My Kitchen (Australia)

View

Eat Yourself Sexy Australia

View
View

Globe Cooker (France)

View
Best Food or Drink Radio Broadcast

www.thebikinichef.com
/podcast, itunes, podcast

Itunes…. live 365….
iWineRadio.com

The Food Maven Arthur Schwartz
www.thefoodmaven.com
EatDrink on Sirius XM

sample unavailable